In order to demonstrate next-generation energy technologies, researchers at the University of Illinois at Urbana-Champaign are using topology optimization and metal 3D printing to design ultra-compact, high-power heat exchangers.
Used in most major industries—including energy, water, manufacturing, transportation, construction, electronics, chemicals, petrochemicals, agriculture, and aerospace—heat exchangers transfer thermal energy from one medium to another.
For decades, the heat exchanger design has remained relatively unchanged. The latest advances in 3D printing allow the production of 3D switch designs that were previously considered impossible. These new innovative designs operate more efficiently, but require specific software tools and design methods to manufacture high-performance devices.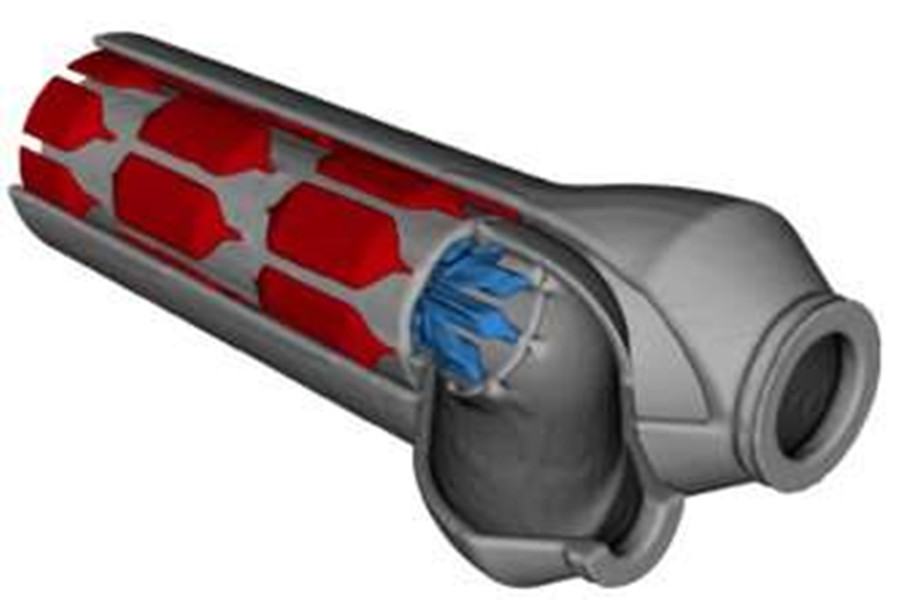 Researchers at the Grainger School of Engineering recognized the need to unlock new high-performance heat exchangers and developed software tools that support the design of new 3D heat exchangers.
We have developed shape optimization software to design high-performance heat exchangers, said William King, Professor of Mechanical Science and Engineering and Head of Joint Research at the Granger School of Engineering. The software allows us to identify 3D designs that are significantly different from traditional designs and are better. .
The team first studied a type of heat exchanger called a tube-in-tube heat exchanger, in which one tube is nested inside another tube. Tube-in-tube heat exchangers are commonly used in drinking water and building energy systems. Using a combination of shape optimization software and additive manufacturing, the researchers designed the fins inside the tube (only metal 3D printing is possible).
We designed, manufactured and tested an optimized tube-in-tube heat exchanger. Nenad Miljkovic, associate professor of mechanical science and engineering and head of joint research, said that the volumetric power density of our optimized heat exchanger is higher than that of the most advanced commercial tube heat exchanger. The tube device is about 20 times higher.
With billions of heat exchangers used in the world today, and more and more attention to our need to reduce fossil fuel consumption, the demand for compact and efficient heat exchangers is increasing, especially in the size of heat exchangers. And quality significantly affects performance, range, and cost in industries.
An article written by Hyunkyu Moon, Davis McGregor, Nenad Miljkovic and William P. King, "Development of ultra-power-dense heat exchangers through genetic algorithm design and additive manufacturing" was published in Joule.
Link to this article: Ultra-compact, high-power metal 3D printed heat exchanger is here
Reprint Statement: If there are no special instructions, all articles on this site are original. Please indicate the source for reprinting:https://www.cncmachiningptj.com/,thanks!
---
PTJ® provides a full range of Custom Precision cnc machining china services.ISO 9001:2015 &AS-9100 certified. 3, 4 and 5-axis rapid precision CNC machining services including milling, sheet metal to customer specifications,Capable of metal & plastic machined parts with +/-0.005 mm tolerance.Secondary services include CNC and conventional grinding, laser cutting,drilling,die casting,sheet metal and stamping.Providing prototypes, full production runs, technical support and full inspection.Serves the automotive, aerospace, mold&fixture,led lighting,medical,bicycle, and consumer electronics industries. On-time delivery.Tell us a little about your project's budget and expected delivery time. We will strategize with you to provide the most cost-effective services to help you reach your target,Welcome to Contact us (

[email protected]

) directly for your new project.